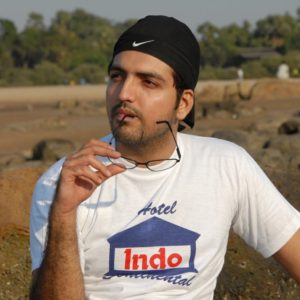 Hitesh P. Gadhia
Founder of Creative Think Tanks | Director (Films & Television) 
Founder of "Creative Think Tanks", Hitesh P. Gadhia is a Film & Television Director [Member of Indian Film & Television Director's Association].
His contributions in the field of media reflects in more than 14 TV shows. He has directed popular TV shows like Baa Bahu aur Baby (Star Plus), Kahi Kisi Roz (Star Plus),  Alaxmi – Hamari Super Bahu (Life OK), Taari Aankh No Afini (Colors Gujarati), Mahisaagar/Naya Mahisaagar (Reliance BIG Magic) and many more.

Hitesh is also associated with Mumbai University as a visiting faculty of Mass Media in colleges like Thakur, Don Bosco , Lords Universal, Vidya Vikas Universal, MVLU, LN , NSM and others. Since last 10 years, He has been disseminating his extensive media experience by teaching subjects like Ad Designing, Advertising & Marketing Research, Understanding Cinema, Radio & Television, Print Production & Photography and Introduction to Media Studies. To enhance and sync his knowledge with the latest practices in the Advertising and Marketing spectrum, Hitesh recently completed his Post Graduation in MBA  (Marketing).
He has conducted several workshops & seminar on various aspects of media like Filmmaking, Technicalities of Acting, Video Editing, VFX and  Social Media Marketing under his media institute 'FTP – Follow The Passion'. He has been the head of Acting Faculty at 'Nimble Foundation' &  has also conducted guest lectures at 'Kishor Namit Kapoor's Acting Academy'.
His little contribution in the field of Drama/Stage is also quiet remarkable. Hitesh has performed lead roles in experimental theatre  like "Of Mice and Men" "Raag-Darbari" etc 
Hitesh has been fortunate enough to be mentored by immensely creative personalities like – Mr. JD Majethia (Producer/Creative Writer/Actor – Hatsoff Productions Pvt. Ltd), Mr. Aatish Kapadia (Writer/Director/Producer – Hatsoff Productions Pvt. Ltd), Mr. Deven Bhojani (Actor/Director), Mr. Vipul A. Shah (Film Producer/Director), Mr. Dipesh Shah (Writer/Actor/Director) and a few more.